Well only if you read this post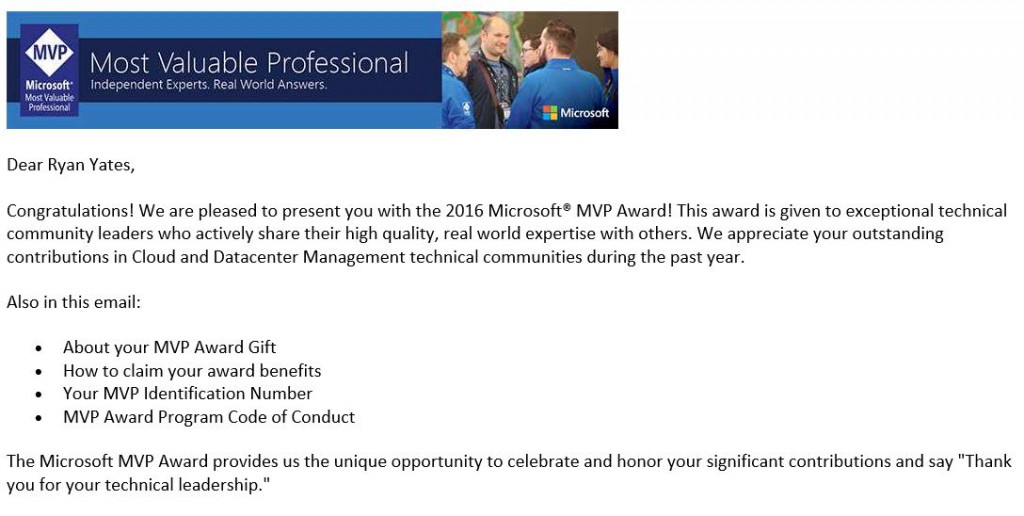 This is an exceptional honour to have been awarded the MVP for Cloud and DataCentre Management and to me this kinda feels like an early birthday present from Microsoft (my birthday is on Monday)
This isn't something that I ever expected to achieve however it is a recognition from Microsoft themselves of the work that I have previously done for the community.
I started off down the community path only last year in that time I have made some amazing friends and met a number of other MVP's along the way.
The Remainder of 2016 I have a lot planned to help further enhance the community and hopefully break down some of the barriers between the IT Pro world and the Development world that PowerShell has found its self right in the middle of to make this technology more accessible to all that need to use it.
With that in mind over the next few months there will be some further announcements about Get-PSUGUK - the UK PowerShell Community and its evolution.
As part of the Friends I've Made in the MVP Community - It has been agreed that this year at SQL Saturday Manchester by Chris Testa-O'Neill MVP Data Platform, that there will be a dedicated PowerShell Track. This will consist of mainly introduction sessions for those that have no/little PowerShell experience but there will also be some sessions on using PowerShell with a SQL Focus. This is an amazing FREE event and it is as much an honour for me to be working on that as it is to receive the MVP Award - So if your interested in Attending check out http://www.sqlsaturday.com/543 - Announcements on Sessions will be coming in the coming months.
Stay tuned for more details in future and as always – Keep Learning, Networking & Finishing what you Start.
 Now for the weekend of celebrations to begin

Thank you Microsoft and an even bigger thanks to you - the people reading this Post, keep doing what you do and helping make the community as great as it is.