So this post is a fair bit overdue and that's because I've been far far too busy as of late.
However let's get right into it!
#PSConfAsia was an important event for me mainly because it was my first venture out of the UK in 20 years – yes 20 – which meant that I needed to sort out my passport – something that had been on my to-do list for about 6 years and it was my first real holiday EVER! It also happened to be very well needed and well timed venture abroad – for those that know me well will understand why the timing of this was crucial to me and perhaps for those that are still to get to know me better this may be something that I share with you in time.
So I had it planned that I would be in Singapore for a few days before the conference and that ended up being that I was in Singapore for 6 days in total which for my first dose of international travel this I think for me was more than enough – my previous "holidays" over the last 5-7 years have been a few days off at a time with almost no travel from the house so this was going to be a really big change for me.
The actual travel there was something I was a little anxious about due to me not knowing if I would enjoy flying or not. Luckily it seems that I'm not fazed by it at all and this has since lead to me looking to other events to attend/present at (more on this in a later blog post)
But #PSConfAsia was more than just a conference with a few days for holiday in-front of it for me – it was a chance to meet with an ex-colleague and also co-organiser of this event, Matt Hitchcock, which was a key driver for me to attend the event let alone put together a presentation for it.
So my travel to Singapore started off after #SPSCambridge as I was flying from Heathrow the next morning and on arrival to Heathrow and getting checked in I had the fun of being the guy randomly picked for Explosive Swabs checks whilst – You can imagine what was going through my mind at that point with it being my first every flight abroad.
The journey consisted of 2 7 hour legs and in between them a short layover in Abu Dhabi, luckily only for a little under 3hours which allowed me to kind of just relax a little and have a wonder round the Airport and have a look through the shopping areas. Also at Abu Dhabi the free Wifi was really slow so instead of any Social media catching up I watched some videos that I had prepped for the journey.
The Flights with Etihad were comfortable and had some useful amenities on board and in seat that included on board Wifi (unfortunately not free) a plug socket at your seat and also in seat entertainment system that also allowed you to chat with someone else based on their seat number – this could be a very useful addition to all flights and I would hope that the likes of EasyJet etc will install these on their flights soon.
However once I got to Singapore I had the conundrum that I would be without data or calls (not paying the silly roaming charges) but luckily for me I had researched about this before I had left and Singapore has a great selection of Tourist mobile sim offers that typically include upto 100Gb of 4G data with local call and texts for upto a 10 day stay for the equivalent of £15. That's just amazing value and is indictivative of how advanced Singapore is in terms of its Infrastructure.
There was also another great thing in Singapore that anyone visiting should take advantage of. This was the Tourist travel pass which at roughly £15 gave you unlimited travel on buses or the Singapore MRT (like the London Underground/Overground systems) but this could also be replaced after 3 days with another one so I made good use of it to see as much of Singapore as I could whilst I was there and I did manage to see a fair amount of Singapore but still have other places to see too J (for the next visit).
On the Monday I decided that I would head to the hotel and drop off my luggage, have a nap and then make my way into the Centre to see where the Microsoft buildings were and have a general touristy nose around. I also on that day decided that I needed some comfort food – What better than Singapore McDonalds – who will deliver as well which is a little mad considering that they won't in the UK.
However most of the fun started to slowly build from the Tuesday evening as that was when I got to meet Matt & Milton (another of the Organisers) for some food and drinks in the city area, which was a great experience and made me realise how expensive any kind of alcoholic drink is in Singapore with prices ranging anywhere upto £13 a pint. Owch!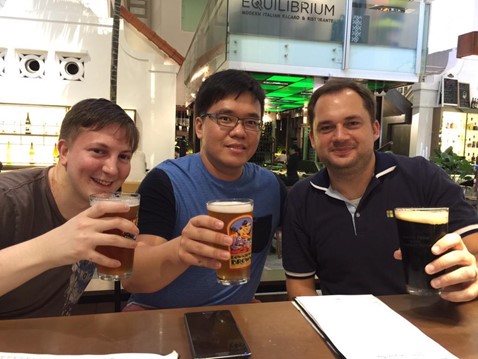 Wednesday started Early as another one of the Organisers Ben had arrived late on that previous evening and was in Singapore for work both Wednesday and & Thursday and he mentioned that he was heading into the office early that morning so I tagged along with him and he showed me what a typical breakfast was in a local restaurant in the centre. I have to say the Kaya Toast was really tasty and I'll look forward to it when I next get chance to over there. Also whilst at breakfast I got chance to try out local coffee as well and again was not disappointed at all. I then spent most of Wednesday just being a tourist and seeing some more of the areas of Singapore (whilst riding the MRT and downloading Windows10 as I did so – gotta make use of my 4G data somehow) and then made my way back to the hotel mid-afternoon as to meet up with the organisers & some of the other speakers that had arrived – which included Ferdinand Rios from Sapien, Narayanan Lakshmanan from the PowerShell Product team, Benjamin Hodge from Kemp (also Organiser), Milton Goh (Organiser), Matt Hitchcock (Organiser) & Jaap Brasser and below is a picture of us all on that night.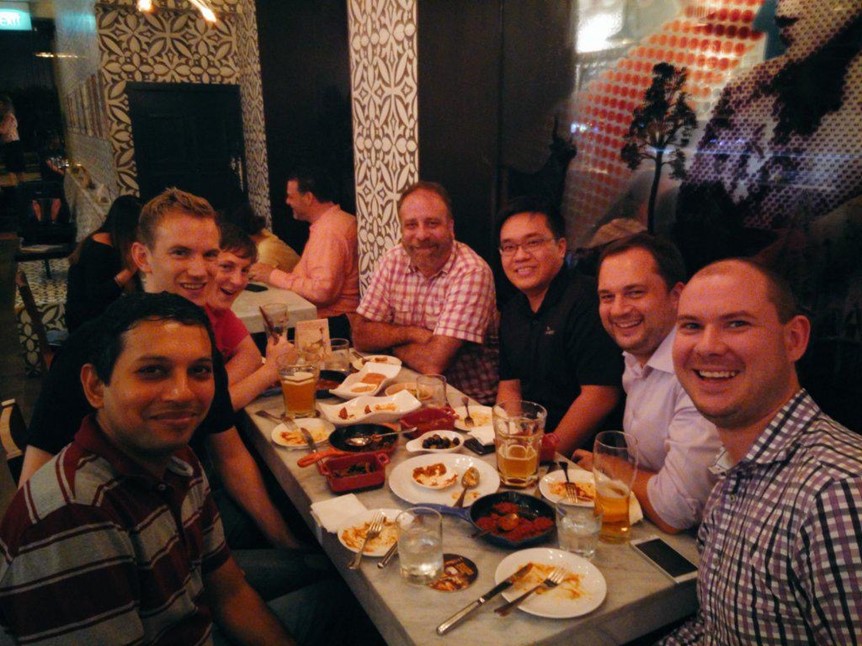 As you can see we had a great time!
This was just the Wednesday night!
On the Thursday I met up with Gokan Ozcifci A SharePoint MVP who I'd briefly met at SPSLondon and was also speaking at PSConf and went and did some further sightseeing of Singapore which was goo as we managed to get around the Gardens at the Marina Bay Sands which was great fun to go round and see everything there. We also went to the SkyPark on the Marina Bay where you can see some amazing views including this cracker of a one below.

We then had a small gathering that evening with some of the Attendees and a few of the other speakers too.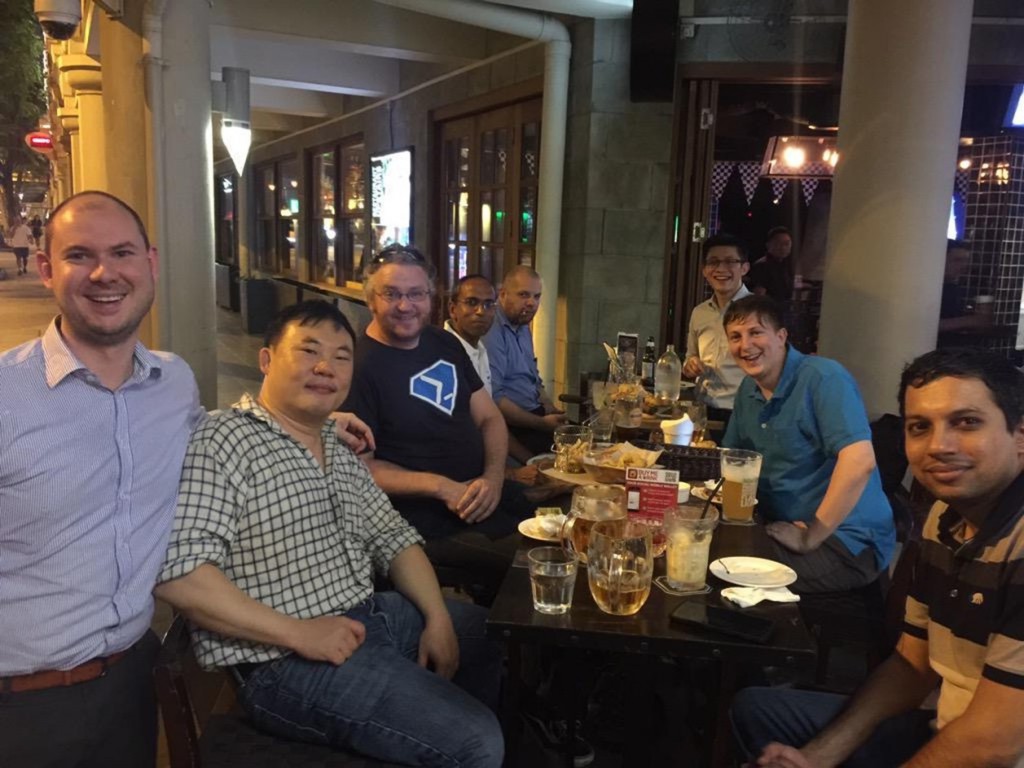 And then the Friday (and the beginning of the Conference) and what an amazing day that was – I decided that I would go and meet Ravikanth Chaganti & Deepak Dhami at the Airport as they were flying in early that morning. I must say I am glad I did as it was a lot of fun meeting the both of them and having some time to engage with them on a more casual basis than it would have been at the conference. It can be seen below as to the fun that we had – I even set up my laptop to be an interactive Display board similar to the ones that the Taxi/Chauffeur drivers have as can be seen below.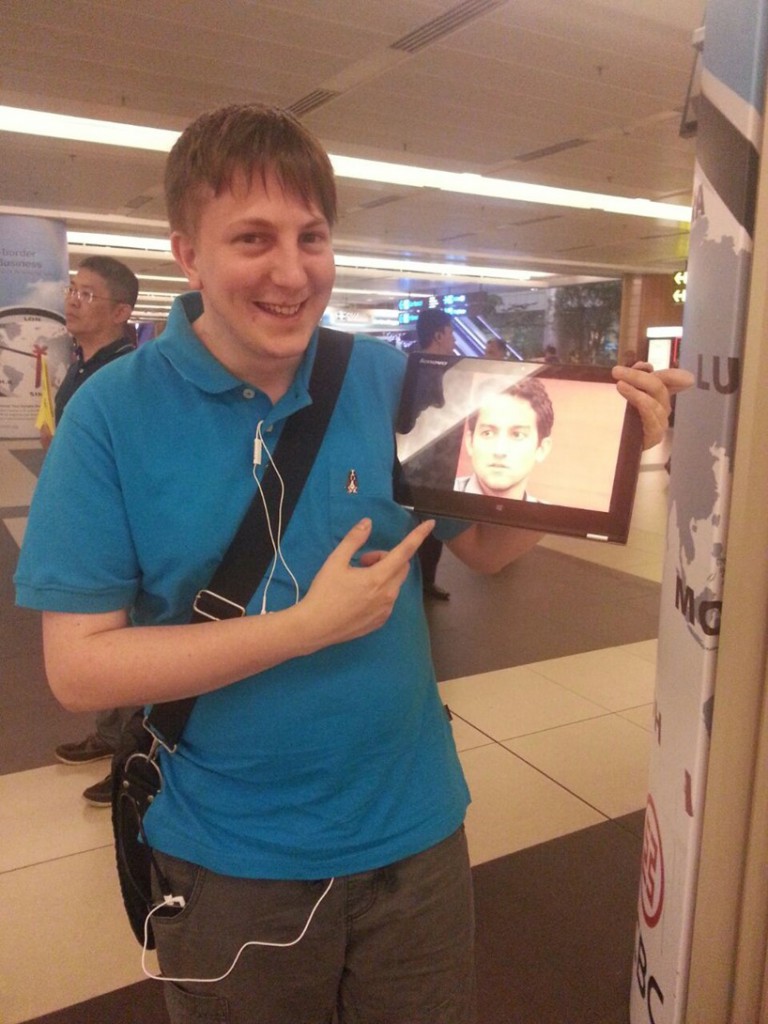 Though Deepak didn't know that I was coming to meet him so walked right past without even realising – Luckily Ravi Had arrived a little earlier so we managed to between us get his attention and then we headed to the hotel to let Ravi & Deepak check in, get ready and then we arranged to head to the Venue.
Now we arrived a little bit through the Keynote by Jeffery Snover but I was still able to get a quick chance to give him a personal thanks (even if the session was via a Skype call) as can be seen below (Thanks Jaap for the picture!) It is without a doubt that without the Invention of PowerShell I would not be finding a career in IT as fun as I currently do and will likely do so for many more years to come!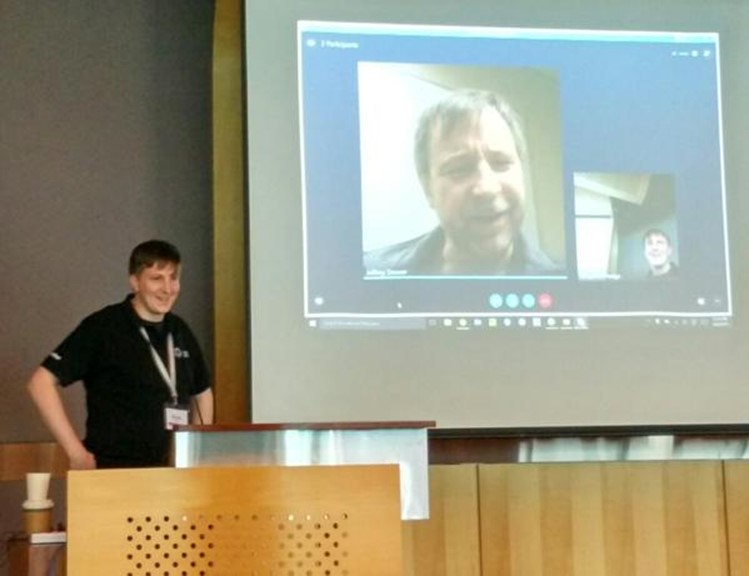 Now throughout the day I had chance to chat to most of the presenters and some of the attendees and sat in on a few sessions where I could. After the day wrapped up there was an organised speaker's dinner which was just fantastic and set in a great location with a great view over Singapore. However I had to leave the dinner early due to having not slept very well the last few days leading up to the conference.
I then as per usual for me when I've not slept very well (been like this for well over 12 years!) I find that I end up having a ridiculously long sleep – in this case almost 14hours and is typical that it happens on a Saturday as well! This then meant that I missed all of the morning's sessions as well and arrived to the venue just in time to give my session which unfortunately I had a bad case of the Demo Gods Wrath! I've yet to revisit and restructure my session but this is on my to-do list for November! After my session there were a few other great sessions in which I need to get back myself into them in more depth – including Pester testing – my annoying phrase from PSConfAsia for the following week was definitely 'Let me Pester you about that later' or some other Pester related variant.
We then had a great after event food, drinks and prize giving event afterward at the truly most English pub possible outside of England and it was a great event. This below has to be my favourite picture from the after event (other than the picture in picture in picture in picture that we took) with Jason Brown from Domain.com.au (attendee / guest DevOps Panelist) and Sebastian (attendee that won the F1 tickets)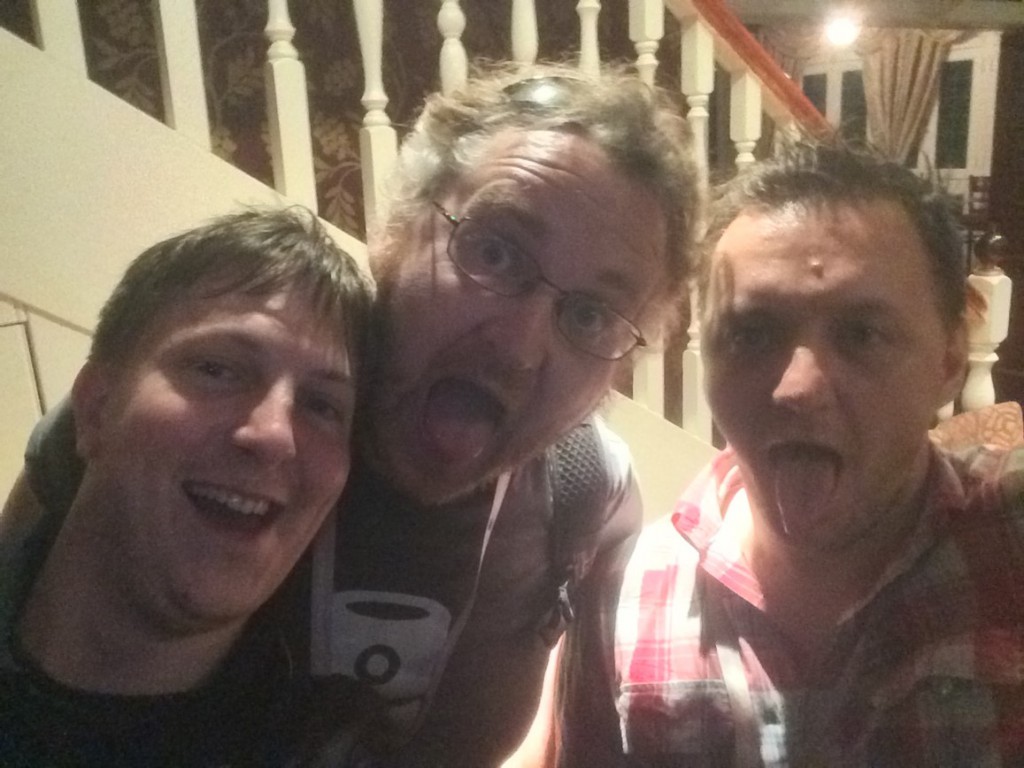 We then after that night had a few of us meet up for a final lunch in a great little Indian in the Little India suburb of Singapore where Ravi made sure that we had some great food whilst we had the chance to.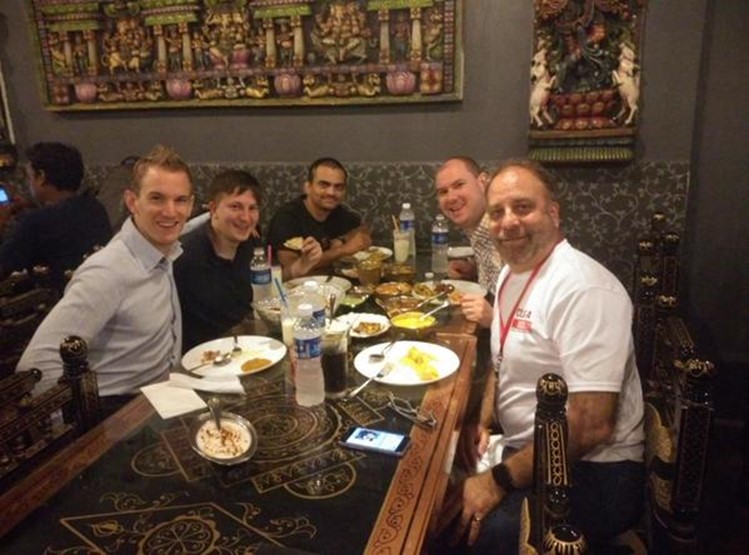 After we left we went and had a relaxing few drinks in the Singapore sun and then we had to make our way to the airport as it was time to get ready to depart and I was luckily enough to get even more time with Ravi to discuss a certain upcoming DSC project of mine and it was great to get some more insights from one of the most well known in the field and I was lucky enough to get myself a selfie with him (and I'm not a photo taking person) at the airport before we had to depart to board our separate flights.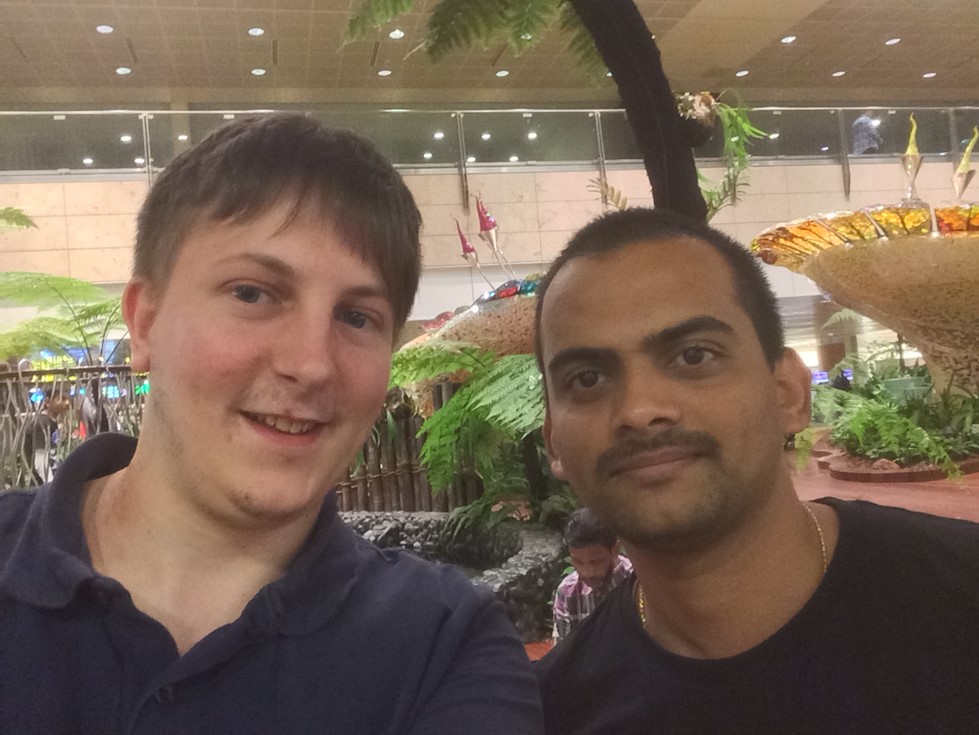 All in all the 6 days I spent in Singapore was an amazing adventure and it is one that I am hoping to be able to partake in again next year – hopefully it will be as fun filled as it was this year and I have been lucky to have made some amazing friends from it and I cannot wait to catch up with them all again in the near future.